Top 5 Myths About Millennial Renters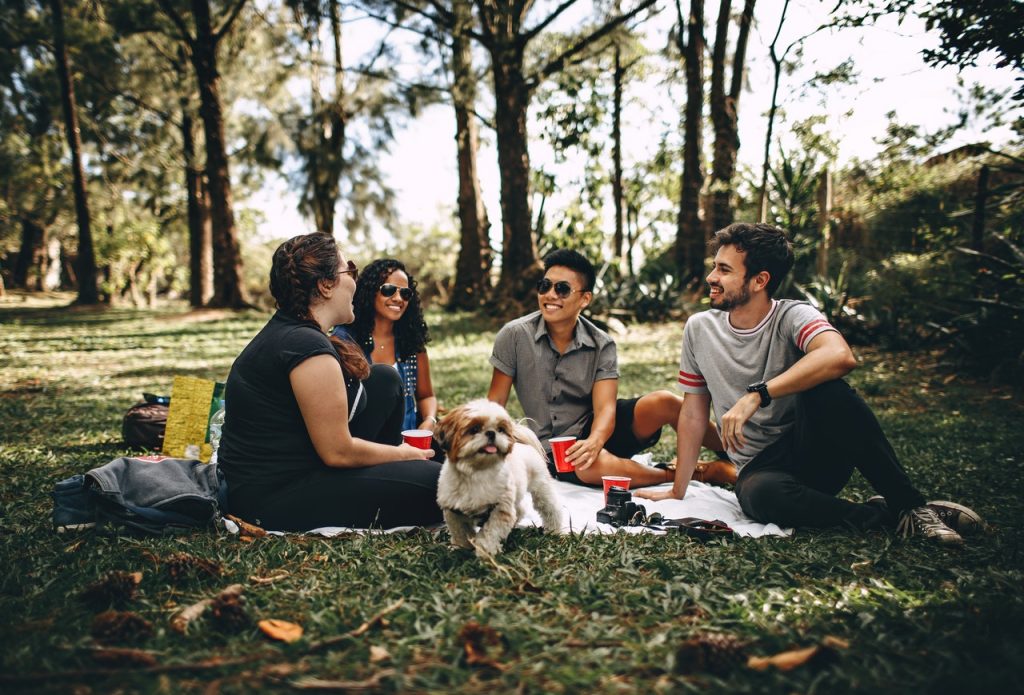 Millennials are often associated with negative connotations such as lazy, entitled, and financially risky. Because millennials renters are the younger generation out of the four defined as millennials, Generation X, Baby Boomers, and the Silent, they might not be as financially prepared as previous generations. Or that is the myth at least.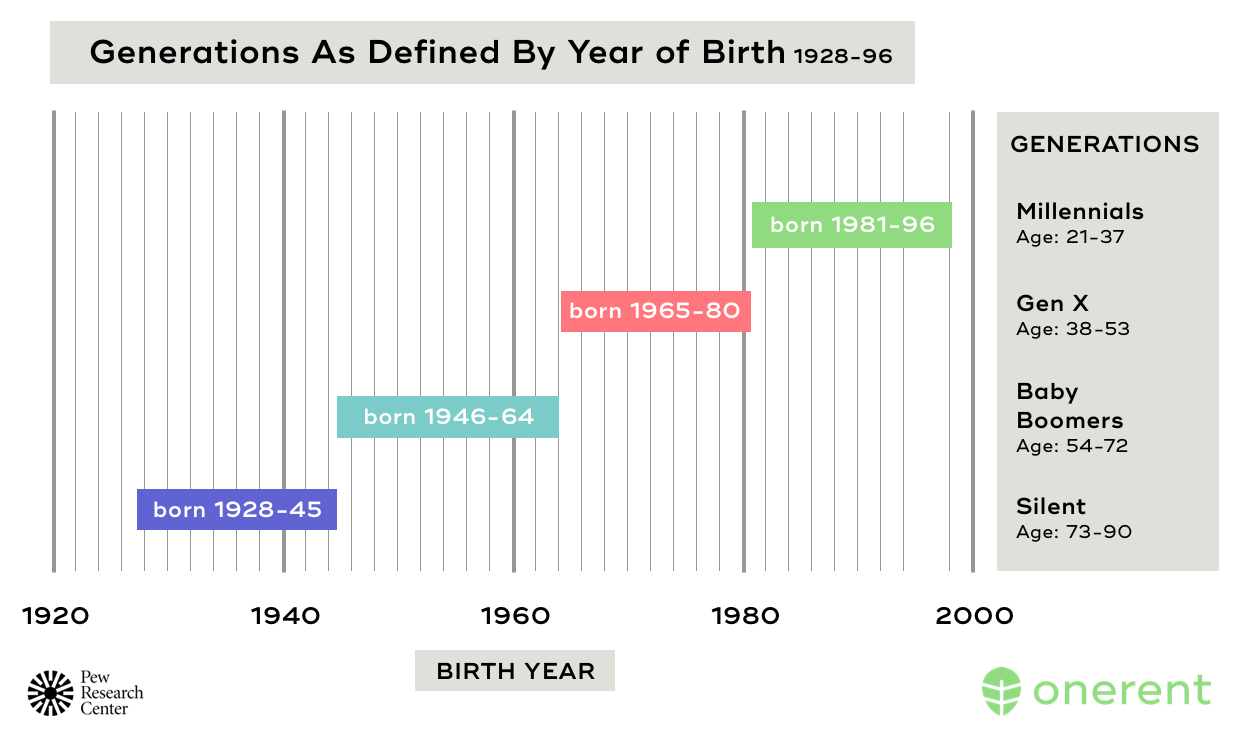 Source: Pew Research
Millennials are born from the year 1981 to 1996, clocking in at ages 21 to 37. The majority of millennials are currently renting a home due to financial and lifestyle choices, however, there are many misconceptions about Millennial renters. Here are the top 5 myths about Millennial renters we will be debunking.
Myth 1: Millennials do not want to buy a home
Contrary to popular belief, millennials aspire to buy a home. With the constant pressure of parent, peers, and social media, millennials do aspire to buy a home soon. The National Association of Realtors reported in their quarterly Housing Opportunities and Market Experience Survey that 75 percent of current non-homeowners say they would like to own a home one day.
The limitation is their financial ability and timing to purchase a home. With the constant pressure of parents, peers, and social media, millennials are hoping to purchase a home in the near future. Millennials are between 36 and 21 years of age. The average age of a first time home buyer is 32 years old (National Association of Realtors). This means around 73 percent of millennials are not at the average age to purchase their first home.
However, this does not mean they have no interest in purchasing a home in the future. While millennials enjoy the convenience and freedom of renting, housing purchase demand will consistently increase due to millennials deciding to marry and have kids.
WE ARE GIVING AWAY A YEAR OF FREE RENT. SIGN UP FOR POPLAR STREET
FOR A CHANCE TO WIN.
Myth 2: Millennials are buried in debt
The myth that millennials are buried in debt originated during the Great Recession. The economy crashed, home mortgages defaulted, businesses failed, and unemployment rose in 2008. This lead to the assumption that millennials in this era were buried in student loans debt from the economic turmoil. The data on Millennial debt shows otherwise.
In 2007, 34% of millennials had outstanding student debt valued at $14,102. By 2010, 40% of millennials had student debt at an average of $13,410. The debt-to-income ratio for millennials in 2001 was 1.04. In 2007, it rose to 1.63. In 2010, it fell down to 1.46 (PEW Research) With the decline of the debt-to-income ratio, Millennial renters are making progress paying off their student debt, different from what we've heard otherwise in the media.
The research found a majority of millennials are paying off their debt sooner than previous generations, thus becoming more financially free in the future. The caveat of this is that Millennial renters are not saving their monthly income, instead of using it to pay off bills and rent. This can extend the difficulty of saving up money to purchase a home.
Myth 3: Millennials need to make $100,000 a year to buy a home
The myth of needing a six-figure salary to buy a home is false. The median income for first-time home buyers in the United States is $72,000 for a $182,500 home at a 6 percent down payment. This means the average first-time home buyer needs to have $10,950 saved up for their down payment, which is 6 percent of the median home price of $182,500.
Two main issues surface with these data points. First-time home buyers might have difficulty saving up $10,950 for a down payment when they have other bills to pay such as rent and student loans. This can delay their purchase date further out into the future. First-time home buyers might also have difficulty paying their monthly mortgage after they purchased their home due to other personal loans.
While buying a home might seem light years away for some millennials, a consistent savings schedule can prove to be the key to purchasing a home.
Myth 4: Millennials are not buying homes because they change jobs often
We have now established that debt, salary, and future expectations are not sole influencers for millennial's purchase decisions. What about their job changes? A recent study conducted by Gallup shows that 60 percent of millennials are currently open to a new job opportunity and 21 percent of millennials in 2016 reported switching jobs within the past year, compared to 7 percent of Generation Xers and baby boomers. Does this directly influence if Millennial renters are not buying homes? Not entirely.
A rental analysis shows that 24 percent to 32 percent of millennials states their main reason for buying a home in the future would be a change in lifestyle such as getting married, starting a family or retiring. Millennials change jobs often, however, their decision to change their lifestyle takes precedent and thus can influence them to buy a home.
Job changes do somewhat influence a millennials decision to buy a home, however, the decision to get married or start a family is higher on the priority list.
Myth 5: Renting is a worse financial proposition than buying
The king of all renter myths are that renting is a worse decision than buying a home. The assumption is that when you rent, your money is essentially wasted paying off your landlord's mortgage. While this does hold true, deciding to rent or buy is a personal decision that involves your financial situation and future plans.
Renters enjoy the convenience of renting because of the flexibility to move and low accumulation of debt. Homeowners choose to purchase a home because of their interest in ownership of a large asset and stability.
For Millennial renters who tend to bounce from trend to trend, renting in their early years might seem like an ideal option. Millennials who choose to rent traditionally have the ability to live in higher cost area, are free of maintenance, and can live month to month, however do lose out on tax benefits and the opportunity to build equity. The choice is up to the renter since both options have their pros and cons.
Solution: Join the Poplar Program
If you're renting now but planning to eventually buy a home, burning 35 to 50 percent of your income each month on rent does not always feel like the best way to save for your future. In a traditional rental situation, you will never see a penny of your rent come back to help you in the future. Instead of building equity in a home you own, you get short-term convenience at a steep price.
Onerent is pioneering a new way to rent with the launch of a first-of-its-kind product named "Poplar Street". When you sign up for Poplar Street, you can earn 20 percent back on each month's rent payment as a credit towards buying your first home. By saving a portion of your rent for a future home purchase, you get the convenience of renting plus the tools to build equity in your future home purchase.
Get early access to the Poplar Street below to be the first to know about homes enabled with the program or to convert your current rental to a Poplar-enabled home.
Start saving for your dream home
Move into a Onerent home and earn back 20% monthly rent for a future home.