Popular Kitchen Design Ideas (With Cost Estimations)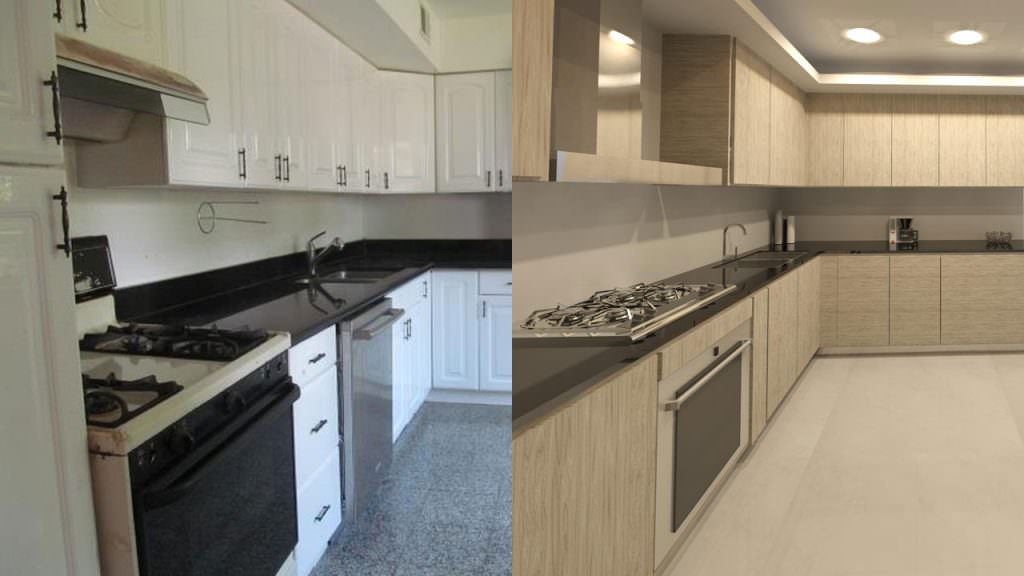 Renovating your kitchens can also have a huge influence on returns for your home renovation investment. The kitchen is also a make-or-break room for homebuyers to look at, and we're here to share some great kitchen redesign ideas with you.
Here are a few kitchen remodel design proposals we made using Kukun's projected home value tools, which allowed us to get an idea of how much the renovation would cost and what its total return on investment would be (keeping in mind the actual condition, location and market value of each one).
---
This post was written by our partners at Kukun, a platform that helps homeowners navigate the remodeling process, provide the inspiration, information, and tools you need to create a personalized home and finish projects on time, within budget.
---
For a house in San Francisco, we proposed a modern yet warm and inviting look with new cabinets, new flooring, new lighting fixtures, the relocation of the oven and the kitchen sink, and the installation of tiles on the walls. The remodel options — with "high level" plumbing and flooring, and "good level" cabinetry and electricity gave Projected cost for renovation of $17,600 and an impressive estimated equity gain of $15,000.
For the second kitchen remodel, we kept the plumbing and electrical installations where they originally were. The main kitchen redesign ideas we decided to go with were the placement of new cabinets, a new oven, the installation of new lamps, and some new furniture and fixtures. The cost and equity gain of this remodel project in Sunnyvale:
Estimated cost: $16,000
Estimated equity gain: $13,600

---
Interested in your own kitchen renovation? Take a look at a handy tool for estimating the cost to remodel a kitchen to get you started.
---
The third kitchen renovation proposal we'd like to present to you was for a house built in 1950. This remodel was basically about a new countertop, a new backsplash, and new cabinets. The change in style was the most dramatic change, resulting in a minimalistic and pure look, in contrast to the current date style.

Estimated cost: $3,900
Estimated equity gain: $5,850

This renovation proposal for a kitchen in Tappan, New York suggested brand new high-end cabinets, new flooring that would continue into the next room, new appliances and fixtures, and some work on the ceiling to improve the general illumination of the kitchen. The plumbing installations were left as found.
Estimated cost: $18,400
Estimated equity gain: $15,600

Remember that major kitchen remodeling and design renovations aren't always necessary — the space might only need a facelift. If your kitchen is in good functional shape, then you don't have to completely transform it; in those cases, you can choose from smaller kitchen redesign ideas, such as changing the finishing of surfaces, upgrading the appliances or installing new light fixtures.