Onerent vs Los Angeles Competitors: Property Management Fees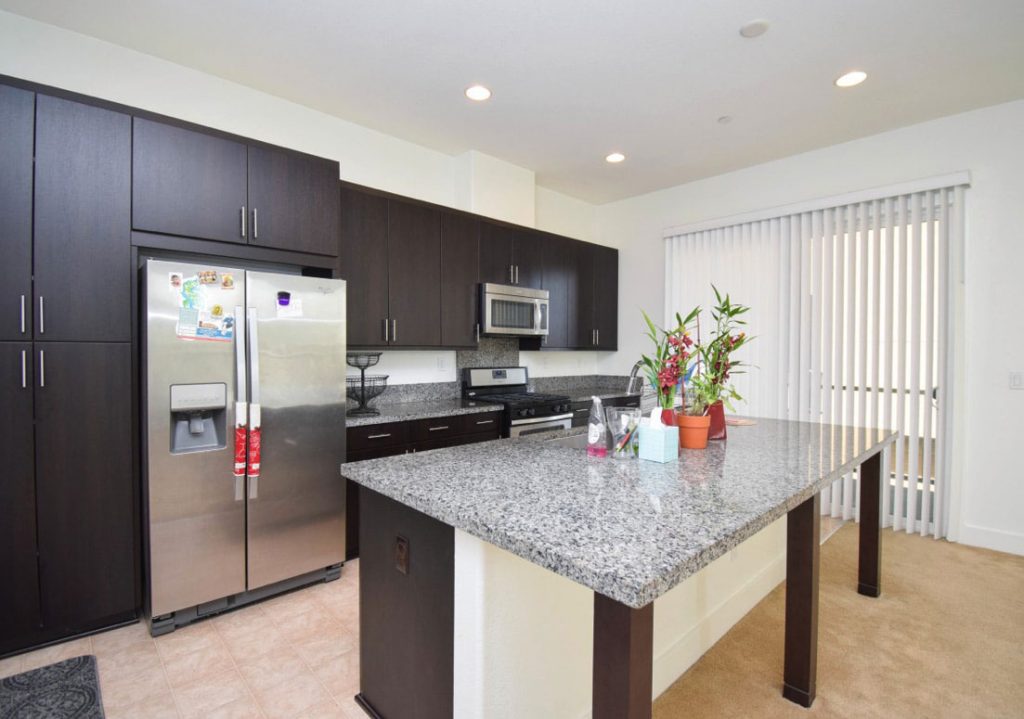 Most rental property owners prefer a full-service property manager to take care of their rental needs instead of approaching separate entities.
The cost of property management in LA is expensive. You might pay around 8 to 12 percent of the property's monthly rental value and other expenses like maintenance, leasing, vacancy, and miscellaneous fees.
See how Onerent's property management fees compare to those of traditional property managers in LA.
When you are looking for property management companies in Los Angeles, one of the things you'll consider is cost.
While property management fees are important, they must be scrutinized considering how much other firms are charging, the scope of engagement and services provided, and the quality of the services offered.
That said, there is no fixed cost or industry standard. What you'll pay depends on your property and the company you choose to hire.
Costs depend on whether you are a rental property owner with a hands-on or hands-off approach to management. Hands-on means constantly collaborating with your property manager on a day-to-day basis. Hands-off means delegating all the management to your property manager.
Lastly, if you have multiple rental properties that you're signing up for management all at once, you may get a lower fee structure or discount on bulk order repairs.
Typical Property Management Fees in Los Angeles
Los Angeles is a great rental market to be in if you are not cost-burdened. Even if you put a property up for rent, you may still end up spending more the longer it is vacant.
You'll also encounter these costs when you come across larger expenses for property management with hidden costs.
An American community survey published in Urban Institute claims renters and homeowners are found to be similarly cost-burdened when incomes are equally low.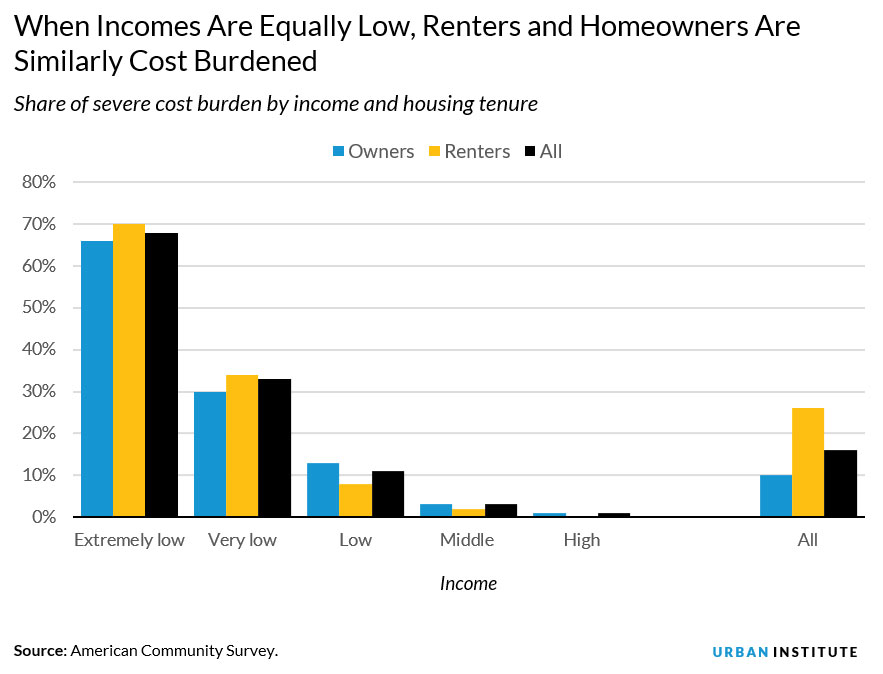 Expenses on housing make it difficult for low-income homeowners and renters to attain basic non-housing needs. This could also be loosely applied to cost-burdened homeowners and renters in LA.
Property Management Fees
All monthly management fees are different. You can expect to pay a typical property management firm between 8 to 12 percent of the monthly rental value of the property plus other expenses, such as maintenance. Some companies charge $100 per month as a flat rate according to All Property Management.
An important point to consider is the range and quality of service offered for that price, and the cost of additional services beyond their primary scope of service.
Transparency and control over your spending are vital.
Leasing Fees
Leasing fee or tenant placement fee ranges from 50 to 100 percent of the first-month rent amount. This covers the cost of advertising, screening, and placing a qualified tenant in your property.
Some leasing fees include different types and levels of services. Along with the screening, Onerent offers high-quality listing photos and a 3D virtual tour.
Additional Fees
There will also be other charges that are not included in the management fee or leasing commission. These additional fees might include maintenance fees, markups, or add-on fees.
Vacancy Fees
This refers to the fee when there is no tenant in your property. 
In our opinion, property managers shouldn't be charging you a vacancy fee. Some firms charge one month's rent upfront. You may run into this fee if you are trying to engage the property management firm while the property is vacant.
Other companies expect to collect the full monthly property management fee even though there is no rent coming in. Make sure that the language in the contract indicates management fees are to be paid out of "collected rent" or "rent collected" as opposed to "scheduled rent" or "rent due".
Ensuring this language is in place will also protect you from having to pay management fees in the event that a tenant stops paying rent.
Setup fee
Some property management firms also collect setup fee ranging from $0-$300. This might already be bundled in the leasing fee.
Eviction fees
This fee could typically get up to several thousand dollars, considering filing and attorney fees.
Miscellaneous fees
You might also see some costs passed on to you where the firm charges you a low monthly percentage.
This may include an advertising fee for placing a tenant and an annual inspection fee. It may also include a reserve the firm keeps for unanticipated and urgent expenses.
PricewaterhouseCoopers predicts that 12.5 million new households will be created over the next decade and more than half of them will be renting in the US.
It is no surprise that LA Homeowners are excited to make the most out of their investments to overcome the mortgages.

A study by the Harvard Joint Center for Housing Studies (JCHS) also shows that a larger number of older homeowners have severe cost burdens than renters.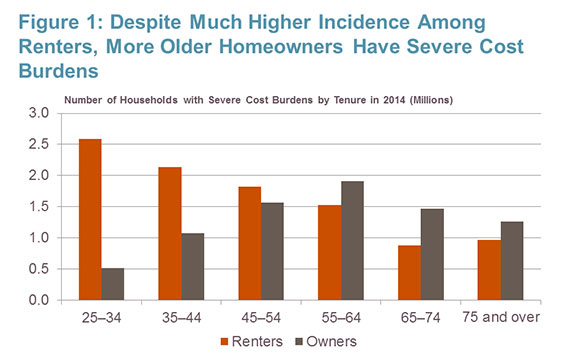 You might wonder why there is so much cost burden for owners in LA.
Property management is heavily fragmented even though it is a huge market with no major comprehensive quality service providers in LA. This is because LA lacks the right combination of affordable, easy, and personalized technology service, with mom and pop landlords relying on traditional management strategies.
According to IBIS World US Market Research August 2017 Report, "in addition to service quality, property managers must also be able to offer a wide variety of property owner demands." This is because clients prefer doing business with full-service property managers instead of approaching separate businesses for their real estate needs.
Onerent manages all of your real estate needs including property management, property concierge,  leasing, and maintenance, and improves your rental performance with data science.
We make your experience smooth and hassle-free with the perfect balance of technology and human touch.
Onerent's Property Management Fees
More rental property owners look for full-service management from a single provider at less cost instead of hiring individual vendors and a property manager. Here's how Onerent's basic property management compares to other LA property management companies:
Affordability
Onerent's property management fee is more affordable. We offer better value on services with significant savings compared to traditional property management fees charged in LA.
We provide comprehensive, need-based service packages with significant savings for owners. 
You can obtain information on how much you can save in PM fees per year with Onerent using the slider tool and setting the rent on our pricing page.

Transparency
The pricing is straightforward with no hidden costs or markups.
Flexibility
We offer flexible and complete packages from leasing to management for both hands-on and hands-off owners.
No long-term contract
Our agreement is month-to-month with no lock-in after tenant placement. We keep things simple and transparent because property management needs to be.
Guaranteed rent
Owners get extra security behind their tenants. This is available only for properties under our full-service management service with qualified renters.
Owners are guaranteed rent disbursement on the third business day of each month. This is much faster than the 10th or 15th from traditional managers.
In light of the Government's moratorium in response to the Covid-19 health situation, we are freezing the Rent Guarantee feature until it's legal for us to collect or pursue rent.
Eviction coverage
For any Onerent-qualified tenants, we will cover up to $15,000 in any legal fees associated with an eviction. Even though our eviction rate is half a percent, we include this coverage with our full-service package only.
Savings vs Traditional
Here's how much you save with Onerent compared to traditional PMs:
Tenant Placement Fee for Leasing Services
The Leasing tier includes the property walkthrough, listing, showing, qualification, signing, and Prorated/Security Deposit Collection. 
Onerent charges a leasing fee of 50 percent during the first month of rent compared to the 100 percent charged by competitors. 
This is the popular choice of hands-on owners who just need help finding a quality tenant and prefer to manage their properties themselves.
Basic Management Fee
Our Basic Management contains all the services of the leasing management plan and more. 
In addition to leasing services, we include a $15,000 eviction coverage, guaranteed rent payments, annual inspection, tenant notices, and handle the entire move-in and move-out process. 
This is offered at 40 percent of tenant placement + 5 percent of monthly rent ($150 minimum) with a $500 setup fee if tenant-occupied. 
This saves you more compared to the 8 to 12 percent monthly management fees charged by other PMs. 
Other PMs' management fees will take a bigger bite out of your rent every time it grows.
With a host of services, this is the best choice for a hands-off owner who hates the hassles of self-management but likes to be on the front seat. 
Onerent 360
Onerent 360 gives owners a $3,000 maintenance credit every year. That saves owners from creating a separate expense item for maintenance and repairs.
Onerent will also handle claims, monthly payments, and any deductibles or service fees which is covered by owners' $3,000 maintenance credit.
With Onerent 360, owners also enjoy the benefits of basic management and get a $1,000 credit on Capital Improvements annually. Owners may use these credits on making improvements on the property or fixing property wear and tear. 
Onerent 360 is offered at 8% of the total monthly rent with a minimum of $235 per month. For example, if a property's rent is less than $2,938, owners will pay a flat fee if $235 per month.
No Markups or Add-on Fees
One of the key differentiators Onerent offers over traditional property managers is that we do not charge any markups or add-on fees in our contract. Many traditional managers need to charge additional service fees to cover their expenses in additional manpower.
For example, you may often discover that maintenance invoices from traditional property managers include a 10 to 20 percent markup on the base maintenance costs. This is common for a property manager who employs in-house maintenance personnel or handymen.
The existing pricing models are comprised of the percentage model, the flat-rate model, or the hybrid model that charges a percentage for monthly management with other value-added services with set prices. 
We offer the best pricing model for a homeowner with the combination of these models to offer a wide variety of quality services, providing the option to add on services. We keep our fees within the market scale, with variations within this range being attributed to the location of the property, the rent that is being achieved, and how many properties you place with us.
We pride ourselves on being competitive with our fees, but we also are not necessarily the cheapest out there. 
This is because we are not going to provide you with a cheap or inferior service.
We will strive to provide rental property owners a stress-free experience and set the benchmark for communication and professionalism.
You can rest assured that all members of our team are highly qualified and have extensive industry and life experience. After all, we are looking after your greatest asset.
Looking to rent your property? Schedule a free rent estimate and see how much your property is worth!
Save up to 60% on Property Management in LA