Onerent's On-demand Rental Service Launches in Los Angeles, CA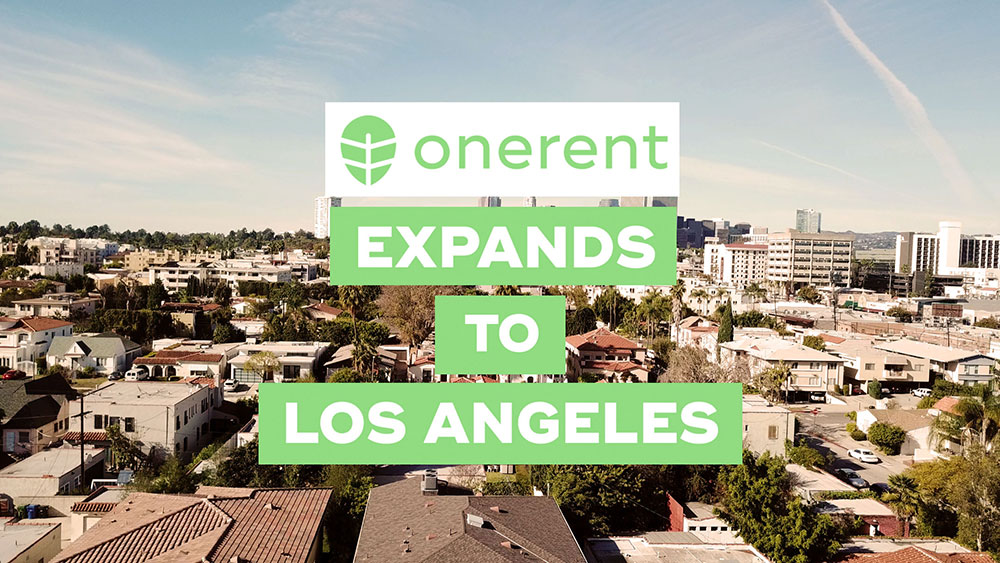 Today, Onerent officially expands our end-to-end rental technology service to the Los Angeles area for residential rental properties.
As many of you know, Onerent merges an online experience with boots-on-the-ground operations to offer a complete and personable service. With our approach, we've helped thousands of renters and property owners to rent smarter and live easier.
Company facts:
Over 2,000 properties leased and managed in just two years
650+ on-demand rental showings each month
5,000+ renters placed in Onerent homes
75 cities serviced across California and Washington state
With the help of our new Mobile Manager workforce in LA, we're already seeing quick leasing times, high quality renters, and high demand from rental owners looking for a unique service at half the cost of traditional managers.
Our first properties in LA leased in 3, 7, and 12 days–beating market averages by nearly double.
We're inviting everyone to participate in this epic LA launch, and are offering credits of $50 to renters who sign a lease with us in LA or $250 to owners who sign up an LA property with us before 2/28/18.
Sign up for Onerent and earn credit now
The Los Angeles Rental Market
In Los Angeles, 65.3% of residential dwellings fall under the rented category. About 7% of dwellings are vacant. This year, the rental market is poised for further growth due to decreasing unemployment, new jobs, and increasing population density.
While the median rent for a 2-bedroom unit in all of LA proper is $1,730, according to ApartmentList, the popular West LA spots deviate far from those numbers. For example, in Santa Monica, $3,000 will barely get you a 1 bedroom place at the Pacific Plaza Apartments.
Overall, rents in Los Angeles are up about 4.0% since last year, but we see that rate of growth is slowing MoM as housing inventory climbs. In all of LA, as of end of Q3 2017, there were 1,767 listings for rent. Compare that to just one year earlier when there were only 804 rental listings posted according to Trulia.
This growth and demand in Los Angeles' rental market sets up a clear opportunity for a service such as Onerent's to succeed in removing fragmentation and inconsistencies in the rental experience. The rising supply also means renters will have more options on the table, meaning property owners need to stand out with their listing and price their rental competitively.
An Alternative to Local Listing Sites
Since Apartments.com's acquisition of Westside Rentals in February 2017, the previously-dominant platform discontinues its free rental leasing service for owners and now directs all postings to Apartments.com.
Renters, however, still must pay for access to full listing and contact information on Westside. Onerent emerges as an affordable, renter-friendly alternative for LA residents. Through our website or mobile experience, we facilitate free on-demand showings 7 days a week at fully-verified listings. For property owners, Onerent offers a more comprehensive leasing service.
Furthermore, we offer a quick and fair applicant screening process to ensure equal opportunity. A renter can finish Onerent's free rental application on their phone during a showing and sign a lease by the time they get back home.
"Onerent's expansion into West LA and San Fernando Valley represents the growing need for simplicity, transparency and efficiency in all aspects of renting and managing a home"
Greg Toschi
CEO and Co-Founder
Onerent, Inc.
Partnerships and Financing
We're proud to also continue expanding our real estate partner network. Across the Bay Area and Seattle, we've partnered with over 3,000 agents from various key corporate partnerships that include Intero Real Estate, Zephyr, Keller Williams, Flyhomes, Boyenga Silicon Valley Real Estate and others to empower their agents and brokers to use Onerent as a business development tool for them to offer it as a value-add service to any real estate investor client. With a Onerent partnership, agents can provide tangible value to their clients in every situation possible and maintain a strong relationship. The cherry on top is that Onerent will provide a cut of their revenue to the real estate professional on a recurring basis. New partners in LA can sign up today to get the same benefits.
For LA Property Owners and Renters
Renters and homeowners in the Los Angeles area who sign up with Onerent today receive $50 – $250 in credit. Refer your friends to get even more!