Leave a strong impression
with professional showings
Get more traffic with on-demand showings.
Fill your vacancy in 10 showings or less
Help prospects decide faster
Prospects are more likely to decide quickly once they've seen your property and how it suits their needs. Onerent makes it convenient for them to schedule a viewing fast with our on-demand showings. The sooner prospects can view your property, the faster they can decide to apply for it.
Secure renter applications fast
Prospects will want to quickly submit their application once they see other renters also eyeing your property. We create this sense of urgency by showing your home, when possible, to multiple prospects at the same time. Knowing there is competition, prospects will move quickly to complete their application and qualify for endorsement to you for your approval.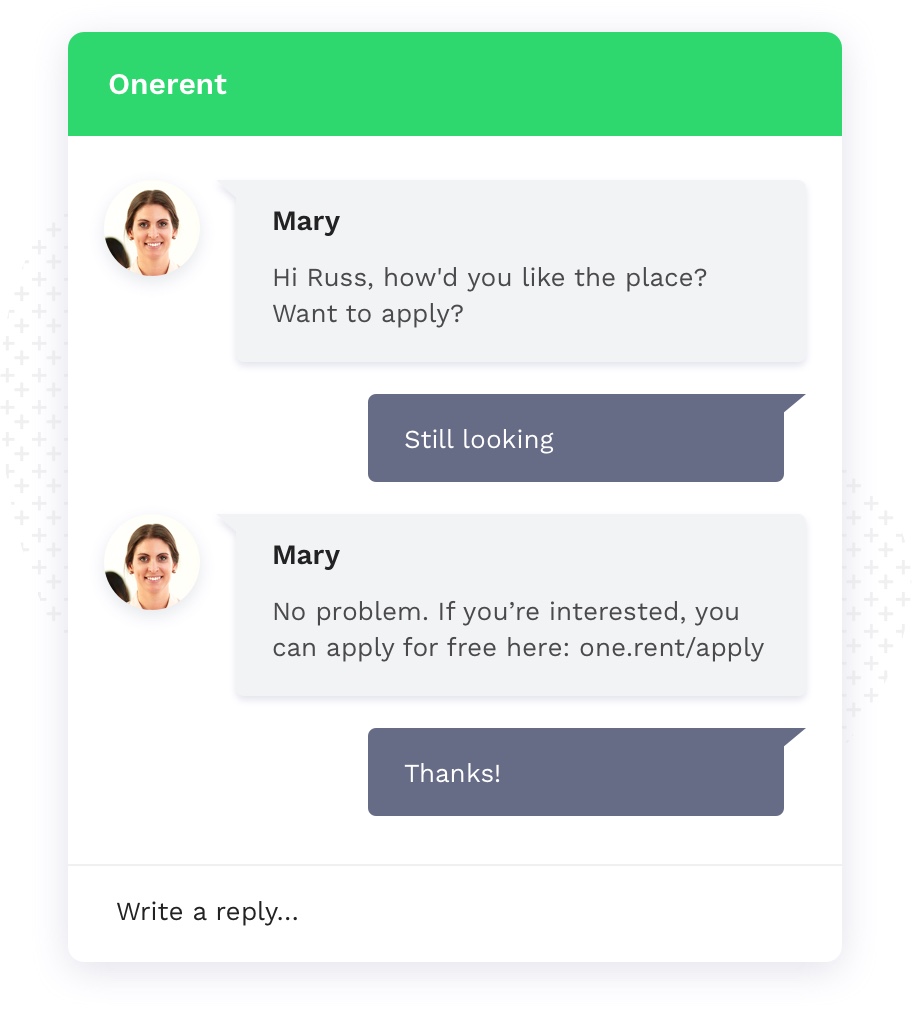 Sit back while we find your ideal renter
Showings on-demand, any time
Relax while we attend to prospect inquiries, book schedules, and conduct showings on your behalf. Give your prospects a positive, lasting impression of your property with professional showings in their convenient time.
We do all the follow-up
Turn prospects into renter applicants with our thorough follow-up. We ask them how they liked the property, forward their feedback to you, and assist your prospects throughout the application process.
97% of our homeowners continue to enjoy our Property Management Services.
Here's why they love it
Best monies I have spent in a long time
They closed on the original estimated week to get the unit rented and got me a great tenant. With them doing the listings and showings, I was able to utilize my time by working and enjoying my weekend instead of wasting my time during the weekends to show the unit. They did everything as promised
Honestly the best company for finding tenants
I would highly recommend this place to landlords. They provided me with many updates. In a matter of a few weeks, they found me a tenant. They're very professional in handling the rental business.
Best Property Management In SF Bay Area
Onerent is the best Property Management that owners can dream of. We are highly satisfied homeowners after renting our property in Dublin with them. They always deposited rent on time every month. From the beginning till the end, all transactions were transparent. We highly recommended them!
They're so good that I don't have to worry about anything
Onerent is very professional, they know their business and they're very responsive.
The rental process is easy and organized
I have been with Onerent.co since 2015 and they're a great company to work with. They charge very reasonable fees. The maintenance process is very painless and the communication is always smooth.
Amazing services and very reliable!
Onerent has been managing my properties in the East Bay for the last few years, and they have performed at an amazing standard. They have been a big help in finding me reliable tenants and performing exceptional, timely maintenance service.