Tenant's Rights Groups Assembled Last Weekend to Enact California Rent Control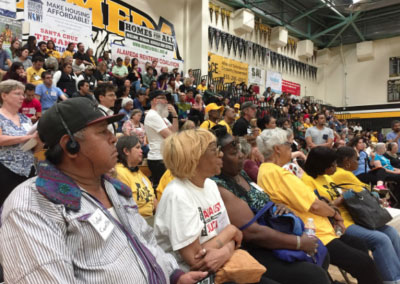 Crowds of residents representing tenants' rights groups around the state of California assembled at Alameda High School on Sunday September 24, 2017 to discuss the state's housing crisis. The main agenda revolved around California rent control.
The Quarterly Residential Vacancies and Homeownership report from the U.S. Census Bureau report placed the national homeownership rate at 63 percent in March 2017. Meanwhile, the homeownership rate was 57 percent percent in San Francisco for 2016, down from 59 percent in 2015.
"California's housing problem boils down to bad government policy […] Housing regulations have made it all but impossible for builders to meet demand in California's growing economy."

Madeline Schnapp
Director of Economic Research for PropertyRadar.
With high demand and low inventory depressing homeownership, more people have turned to renting their homes. Without California rent control, prices can get out of hand.
As of July 2017, San Francisco, San Jose, Los Angeles, and Oakland all placed on the most expensive rental market in the United States:
Top 10 – 1 Bed Median Rent Prices – July 2017
1. San Francisco, CA – $3,450
2. New York, NY – $2,950
3. San Jose, CA – $2,390
4. Washington, DC – $2,210
5. Boston, MA – $2,200
6. Los Angeles, CA – $2,100
6. Oakland, CA – $2,100
8. Seattle, WA – $1,910
9. Miami, FL – $1,800
9. Honolulu, HI – $1,800
What can be done about this housing crisis in California?
During the gathering of tenants' rights groups in Alameda, repealing the Costa Hawkins Act was a main focus. The Costa Hawkins Act was passed in 1995 to limit the scope of rent control ordinances throughout California. Single-family homes and new construction are exempt from municipal California rent control. This act lets landlords set new market-rate rents after a tenant has moved out voluntarily. It repealed state programs to subsidize renters of residential buildings.
---
Related: High Demand and Low Inventory Depress San Francisco Homeownership
Up Next: Renters Get Priced Out of Bay Area
---
Now that astronomical rents are booting renters out of the area, Assemblyman Richard Bloom introduced Assembly bill 1506 to repeal the Costa Hawkins Act and may halt new apartment construction because of it's foundations of rent control in California. This is the most common reaction toward California rent control, especially in the San Francisco Bay Area.
The bill has only three supporters in the Assembly and one in the Senate, which is not enough to get the bill on the Assembly floor for a vote. Sending a bill forward without a large support of signatures was not Bloom's strategy.
Another option is to pass California rent control laws at the local level. In Alameda, CA, "an increase of more than 5 percent must be reported to the city's Rent Review Advisory Committee." Recently, councilmembers added a "just cause" provision this year to protect renters from landlords who would evict tenants without specific grounds. Read more about San Francisco Bay Area rent control laws in our free rent control cheat sheet.
Why Are Rent's Spiraling?
An interesting connection was drawn by SparkRental when they said "San Jose rents shot up by a dizzying 75 percent. Did incomes rise by 70%? Did 70% more people move in? No, of course not. This is textbook bubble territory". The amount of renters willing to sent $4,000 a month on a two bedroom apartment with an average income is low. Millennials are fleeing these expensive cities for more affordable suburbs.
However if California cannot solve their rent control issue, it doesn't matter where people move. Everyone will be impacted.
Found this article useful? Check out our in depth the San Francisco Real Estate Market analysis!