Renters Now Dominate American Cities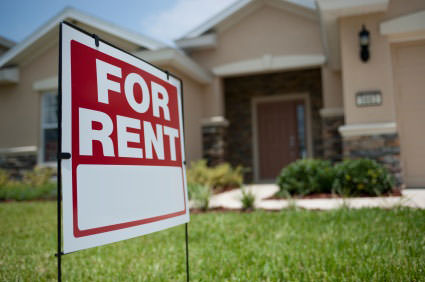 The American dream has a new reality.
According to U.S. Census Bureau Data, renters now comprise the majority population in 52 percent of the nation's 100 largest cities. As expected, much of this change can be attributed to fallout from the mortgage crisis of 2008. While each of the 52 cities cited in the study were majority homeowner in 2009, by 2013 they were fairly evenly divided between homeowners and renters and by 2015 they'd all become majority renter cities. From the looks of things, renters now dominate American cities. But this might be OK.
It's been estimated some 10 million people lost their homes in the crisis and the subsequently tighter credit market made it next to impossible for them to buy another home. Millennials also came of age during this period, struck out on their own and moved into rental housing. While this is fairly common for younger people, millennials have yet to truly embrace home ownership, even though they are now at the age when most preceding generations had begun doing so. Currently, only one third of people younger than 35 are homeowners, compared to 42 percent ten years ago.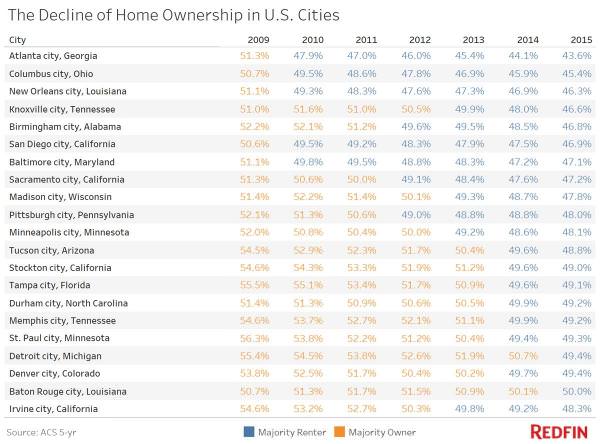 Another factor driving this change is the dearth of new inventory coming onto the market. According to the National Association of Realtors,inventory is currently down an average of 11 percent in the top 100 metros in the U.S. and conditions limiting home supply are not expected to change in 2017. Restricted supply means more people chasing fewer homes with higher price tags.
So with tight credit, more renters in the marketplace, higher prices and fewer new homes being built, America's major cities have become a hotbed of apartment rentals. However, within this, there is some good news for renters in the nation's most mature markets such as San Francisco. While rents have increased by about 2.4 percent in most areas of the country, they have plateaued and even retreated in cities like New York, Boston, San Francisco, San Jose and Miami.
However, suburban areas around those cities have all seen uniform increases. Speculation has it formerly urban renters are now looking for more affordable places outside of those cities and in the process have actually taken higher prices with them. In San Francisco, the median one bedroom price was $3,400 in 2016. This decreased by one percent in 2017. Meanwhile, in the East Bay suburb of Concord, California rents increased by 8.1 percent during the same period.
These shifts are likely to entail some rethinking of longstanding beliefs. For many years, homeowners have been thought of as being more stable than renters. While this might have been true when the vast majority of renters were younger- and lower-income people, this has changed. In Manhattan for example, 20 percent of renters earn more than $150,000 annually.
---
Must Read: Advantages of Being A Renter
Up Next: Six Minor Things That Drastically Improve The Renter Experience
---
Further, when one considers the costs and volatility of homeownership these days, it isn't really the no-brainer investment decision it used to be. The market correction of 2008 is still fresh in the minds of many people. Plus, ongoing maintenance costs, taxes and other associated expenses make homeownership a less attractive proposition than in the past.
What's more, high prices have either forced people out of the market or pushed them into neighborhoods in which they wouldn't be comfortable. Meanwhile, renting places them in more desirable areas—with significantly lower barriers to entry. Additionally, some financial experts say you can beat home equity appreciation with other investments.
In other words, while renters now dominate American cities, it might be OK…
Want to learn more about housing trends in your area? Subscribe to the Build With Onerent real estate blog to get free weekly news articles straight to your inbox.