CEO and Co-Founder's Story of How They Built a Company In Their Garage (Onerent Podcast Interview)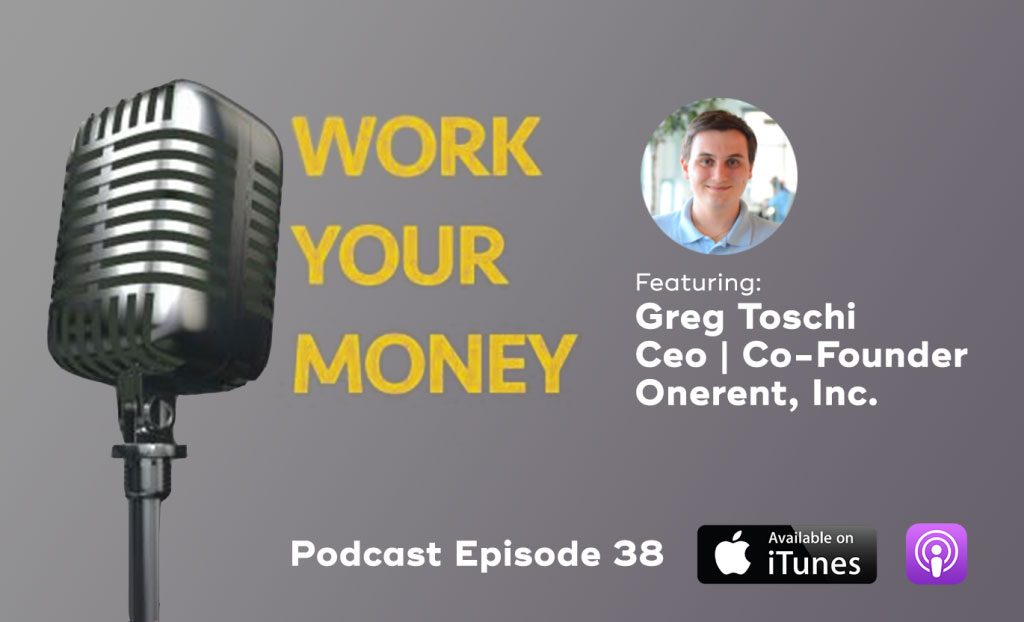 Onerent, Inc. CEO and Co-Founder recently sat down with the Work Your Money Podcast to gain an inside look of Onerent's successes and challenges starting out in a small garage in Santa Clara.

You can listen to the full version here on YouTube, iTunes, or on Android. Below is an edited transcript of the first eight minutes from Greg Toschi and Work Your Money's Michelle Wong's interview. Enjoy!
Wong: Greg tell us a little bit about yourself.
Toschi: So I actually started out in the real estate space back in 2013-2014 while I was still in college and actually started working for a real estate development firm that specialized in multifamily projects. That was my first time exposure to real estate and real estate development and property management.
I founded Onerent with my co-founders, a group of college students at Santa Clara University myself Rico and Chuck, and that really got us started in the space and we founded that based on our experience of off-campus housing back in March of 2014.
We recently made a little bit of a pivot more so into the full-stack property management business in 2015 […] We learned a lot about property management because a lot of property managers were using our software to house students in their properties. Through that experience we realized how little technology way really being used in the space of residential property management. We thought that you know with the software we were building plus some logistics we could really create something that's location agnostic and simplify the experience for both property owners and landlords.
Wong: You're based out in California and you know your platform is being seen all over. To know that you start it from back in college to doing this now that's great.
Toschi: Yeah definitely an exciting ride. When we first started we operated out of our co-founder's garage. This was before we raised any money, and we actually started the business with just a few thousand bucks of our own […] We really kind of built the company from the ground up in that regard. It really helped us understand our customers that's your mostly your smaller investment owners, people that have single-family rentals and fourplexes/duplexes that have a smaller investment range.
Wong: You know what's amazing a lot of the very successful companies always start from basement or garage or someplace very small and it gets built out. It's amazing from going from a small company and then gradually growing it into something bigger and to me that's an I've always been interested to know where things get started.
Toschi: When we first started we focused on just software and only student housing. Today now we're doing the whole spectrum of real estate services for residential properties and servicing not just student housing.
---
 Read More: Onerent Names Intero Real Estate Chairman Bob Moles to Board of Directors
Learn More: Onerent's company brand and vision
---
Wong: Tell our listeners what other areas that you also work with or collaborate with other people with that's occurring right now.
Toschi: Currently right now we're servicing the entire San Francisco Bay Area from San Jose all the way up to Richmond. We did launch in Seattle and Southern California in San Diego. What our goals are actually targeted at the top of metro areas so we are looking to expand it to new locations over the next year. Some of these locations include areas like Boston, New York, Washington, DC. Really top metro areas where there's a lot of rent return over for us to enter into a market.
We haven't initiated those launches yet but our vision for Onerent is really to be a national brand a residential management space. Right now we're currently on the west coast with our eyes on the nation.
Found this article useful? Subscribe to the Build With Onerent Blog to stay updated on company announcements and real estate estate news.