Coronavirus Recovery Center for Landlords and Renters
Rising above the impacts of Coronavirus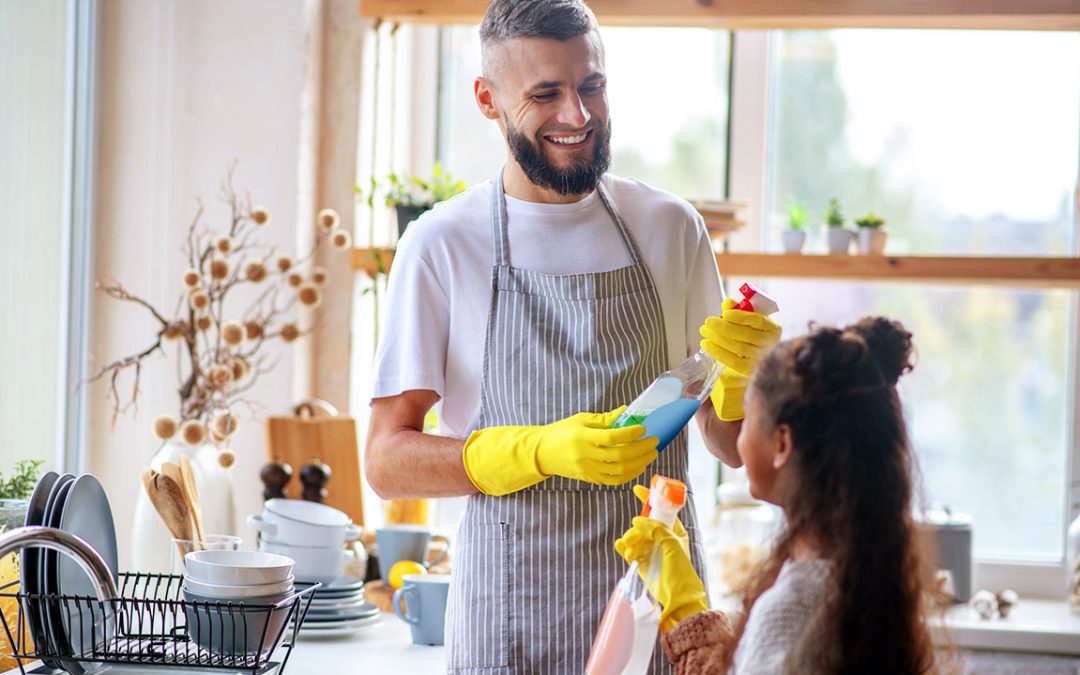 Coronavirus Recovery Center – Recovery From The Impact of Covid19 to Real Estate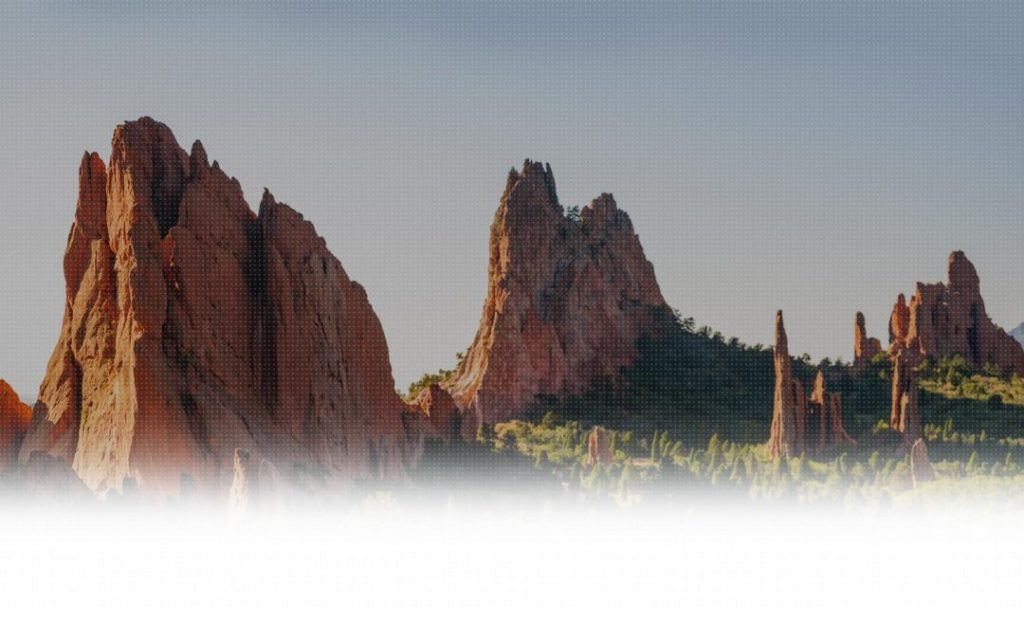 As the story of the novel coronavirus (COVID-19) pandemic continues to unfold, the outbreak has affected every part of our lives. People have resorted to taking preventive measures at home in an attempt to protect their families from the virus.
Prevention at home is critical, especially for those who have to shelter-in-place, given that research on how long coronavirus can live on surfaces shows that it can linger on surfaces for several hours up to days. 
It can be overwhelming to choose from the myriad of ways to protect yourself and your family while at home. The best thing to do is focus on what you can control and you can start with something simple like sanitizing your house. Wash your worries away by going back to good old cleaning and disinfection measures.  
How to Sanitize Your Home
It's important to establish your own sanitation protocols with your housemates to prevent coronavirus from reaching your home. Sanitation should be a team effort especially if household members go in and out of the house. 
You can do all the cleaning you want but it won't be as effective if others won't do their fair share of sanitizing as soon as they arrive home. Easy sanitation protocols include disinfecting your shoes as soon as you arrive, washing your hands with soap and water, and refraining from touching your face. 
Before you clean and disinfect your home, let's learn the difference between the two.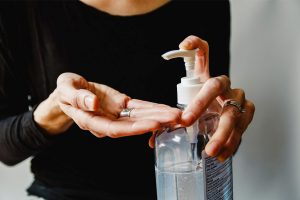 Cleaning shouldn't be confused with disinfecting as they are two separate steps that should be done as part of your home sanitation protocol.
The Center for Disease Control (CDC) said that cleaning refers to removing dirt and impurities from surfaces which don't kill germs but lowers their numbers and the risk of spreading infection.
Disinfecting, on the other hand, is the process of using chemicals such as disinfectants to kill germs on surfaces. While it does not necessarily clean dirty surfaces, it kills germs on a surface after it's been cleaned, thus lowering the risk of spreading infection. So clean dirty surfaces using detergent or soap and water before you start disinfecting. 
Sanitize high-touch surfaces
When cleaning and sanitizing, consider also the types of surfaces that are most susceptible to germs and viruses. The novel coronavirus (COVID-19) has been found to stay on surfaces up to 4 hours on copper, 24 hours on cardboard and 2-3 days on plastic and stainless steel. 
Be sure to routinely sanitize frequently touched surfaces such as tables, doorknobs, light switches, handles, desks, toilets, faucets, sinks, stair railings and electronics with household cleaners and EPA-registered disinfectants. 
Use easy disinfectant alternatives
The U.S. Environmental Protection Agency (EPA) released a list of disinfectants to use against COVID-19. Don't forget to read each product's instruction for use for a more effective procedure.
If you don't have store-bought disinfectants at home, you can make an effective alternative with properly diluted bleach.
Here are two ways to prepare a bleach solution:
Mix 5 tablespoons (1/3rd cup) of bleach per gallon of water.

Mix 4 teaspoons bleach per quart of water.
When using household bleach, make sure to follow these guidelines:
Check the manufacturer's instructions for application and that the product is not past its expiration date.

Ensure you leave the

bleach

in contact with the surfaces for at least 1 minute. 

Allow proper ventilation during and after application. 

Never mix household bleach with ammonia or any other cleanser. 
You can still do a thorough job of cleaning with soap, water and a bleach solution if cleaning and disinfectant products aren't readily available.
Disinfect your devices and laundry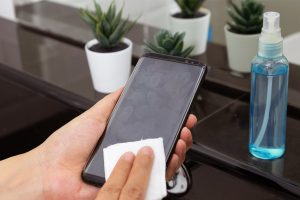 Cleaning and disinfecting shouldn't stop at high-touch surfaces in your living spaces. This should also include disinfecting your devices and your laundry. This way you cover more areas to prevent coronavirus from entering and lingering in your home. 
The number of people working remotely has risen with the coronavirus quarantine. Working from home has increased our screen time and thus, our use of electronics — which have been found to have more germs than a toilet. 
To make sure germs or viruses aren't building up on your electronics, here's how to clean and disinfect your devices such as cell phones, tablets, touch screens, remote controls, and keyboards. 
Disinfect exterior surfaces using alcohol-based disinfectant wipes or a non-abrasive spray containing at least 70% isopropyl alcohol. Dry surfaces thoroughly to avoid any left over disinfectant liquids from pooling on your device.  Refrain from using straight isopropyl alcohol as it may strip off necessary hydrophobic and oleophobic coatings that keep water and oil from damaging your device.
It's also essential to take extra care in doing your laundry. Take note of these important cleaning and disinfection steps for your laundry.  
If one of your housemates is sick, wear disposable

gloves

when you're doing the laundry and discard after each use. If you don't have gloves to use, be sure to wash your hands after handling dirty laundry. 

If you're using reusable

gloves

, don't use them for other purposes. Dedicate its use only for cleaning and disinfecting surfaces for COVID-19. Immediately

wash your hands with soap and water

after using the gloves. 

Avoid shaking dirty laundry as doing so can potentially disperse viruses into the air.

While following the clothing item's washing instructions, if possible

wash clothes at a higher temperature

setting and have your clothes dry completely. 

Use the tips on

sanitizing

areas in your home to

clean and disinfec

t hampers and laundry bags.
After cleaning and disinfecting all around the house, it is especially important to wash your hands and avoid touching our eyes, nose, and mouth as recommended by institutions such as the World Health Organization (WHO) and CDC.
As it is in everybody's interest to have clean and disinfected homes free from COVID-19, Onerent has strengthened its cleanliness standards in property management procedures. 
Renters about to move in a Onerent home can rest assured their new home is clean and sanitary. As a standard, Onerent's full-time Home Services deep cleans each home before the move-in of a new resident. 
For prospective renters still looking for a home, we're making the rental search safer with our contactless rentals. Onerent combines a series of tools, such as its ACE chatbot that allow users to view homes for rent and take a virtual tour to help prospects rent a home safely and remotely without human contact necessary. 
We hope the following measures will prevent COVID-19 from entering your homes — be it the home that you're living in right now, or the home you're about to move into. 
Our team is ready to answer any questions and concerns you may have about our property management solutions for renters and owners during these trying times. Read more about Onerent's tech-enabled property management solutions during this global pandemic.
Experience the modern and efficient way to rent
How can I safely find my next home?
At this time when people have to shelter-in-place, you can easily and safely find a home with us through our Contactless Rentals at onerent.co. We've combined a series of tools to help you find a new home remotely without having to meet anyone face-to-face.
View and tour listings online
You can browse our quality listings online through a customized search and find and rent a home that you like, guided by its info-rich description and stunning photos. Most listings come with digital floors and 3D Virtual Tours that allow you to tour the property virtually using a desktop, tablet or mobile phone.
Take a Self-tour
If you and the home you choose are in an area without a shelter-in-place order, you can view the property physically with our Self-Tours. After submitting proper identification, you can go on a private self-tour of the home without an agent or other party on-site.
Get help from our chatbot ACE
If you need help with any of these, chat up our AI-driven chatbot, ACE, on Messenger for a seamless search and application.
Enjoy more benefits
If you're concerned about moving into a home that you have viewed only virtually, our Contactless Rentals provide a 90-day Move-out Guarantee for qualified homes. This allows you to move out of the house, for whatever reason, within the first 90 days of moving in. You'll get your security deposit back less any damages.
Transact online from start to finish
Apply to any property through our free online application, submitting your requirements digitally. If you need any help on this, our Portfolio Associates are just a call away. Once approved, you can sign the lease digitally, set up online payment on your renter dashboard, and make your initial payment. Then you can move in to your new home.
Move to a safe, sanitized house
Onerent's full-time, in-house Home Services performs a deep clean of each home prior to the move-in of a new resident. While this is our usual standard, we have enhanced our procedure by using hospital-grade disinfectants in the cleaning solutions to address concerns about coronavirus. We're also imposing stricter standards on deep cleaning, putting extra effort on sanitizing high-touch surfaces such as doorknobs, counters, tables, bathrooms, kitchens, and the carpets as necessary. Our people and contractors follow best hygiene practices defined by the CDC and observe social distancing where necessary.
How can I tour a house without leaving my home?
If you're under a shelter-in-place order, you can still tour a home through our 3D Virtual Tour which gives you a 360-degree virtual walkthrough of the property. You can enjoy virtual house tours through your mobile, desktop, and even Virtual Reality if you own a compatible smartphone and a VR device.
In this time of the pandemic, 3D Virtual Tours are the go-to means to view a home. It is not only practical in these times, it is also the only option when you're unable to view the home in person.
You don't need to schedule a 3D Virtual Tour. Simply go to the property's Onerent listing any time and begin your virtual home tour from the convenience of your own device.
Here's a simple step-by-step guide on taking a home tour virtually:
1. Open a property listing at onerent.co/rental-properties-listing and click on the 3D icon.
2. Click on "Explore 3D Space" to begin your Virtual Tour.
3. You can use your mouse to click around to walk through the home. To get a 360 view of each room, click and drag to rotate the 3D image.
To help you with your move-in decisions, the 3D Virtual Tour has a Dollhouse View to give you a quick view of the entire home, particularly helpful for multi-level homes. It also has a Floor Plan View which gives you an overhead view of the property, allowing you to see the size of each room and the layout of the home at a glance.
Its Measurement Mode helps you measure the dimensions of each space so you can plan ahead of your move-in. You can also refer to the digital floor plan found in the property's Onerent listing for measurements.
After a Virtual Tour, you can instantly apply for the property without leaving your place.
Is it safe to move in to a new house during this pandemic?
Yes. You can still move into your new home even during this pandemic as moving into a new home is not restricted under states' Stay-at-home orders.
With our contactless rental services, you can move into your new home without physically meeting our Fielders. On the day of move-in, you are given a secure one-time code to move in stress-free. Simply input this code on the property's electronic lockbox to access the property.
Before the move-in of each new renter, Onerent's full-time Home Services staff performs a deep clean of each home. Our cleaners use hospital-grade disinfectants and place extra effort on high-touch locations such as bathrooms and kitchens, along with deep carpet cleanings where necessary.
If you will seek the help of movers, ensure that you practice 6 feet of social distancing and sanitation as specified in CDC's and your local health agency's best practices.
How can I continue to show my property to prospect renters?
With the current situation, it's risky and challenging to conduct in-person property showings with prospect renters. But with the help of technology, landlords can now continue to "show" houses without direct human contact.
Onerent offers Contactless Rental Services to help you lease your home safely and remotely. Plus, it enables renters to view and rent your property seamlessly online through 3D Virtual Tours, free online applications, and digital lease signing. This way, you can rent out your property minimizing the risk of transmitting COVID-19.
For owners with eligible properties, we provide free 3D Virtual Tours so renters can view your rental in the comfort of their own homes. You can see if your property qualifies here.
Learn more about 3D Virtual tours at onerent.co/property-management/stunning-listing-photos/.
How can I collect rent safely while I shelter-in-place?
While collecting rent should continue based on your contract, there might be some areas in the US (including Onerent Service Areas) that are on a rent freeze or eviction ban because of the on-going pandemic.
If your tenant is able to pay their dues, you can still collect their rent payments. However, you should avoid collecting rent in person to prevent potential contact or exposure to Coronavirus. Instead, you can set up an automated rent payment account to collect rent online.
With our Contactless Rental Services, you can get paid on the dot through secured ACH transfers. All you have to do is to sign up with Onerent and set up your bank details. Once that's done, you can rest easy while we automatically transfer rent payments to your account.
No worries though, our online rent collection services are completely free for Onerent homeowners.
I am sheltering-in-place somewhere far from my rental property. How can I manage my property remotely?
You can manage your property remotely worry-free with our Contactless rental services in California, Washington and Colorado.
Fill your vacancy faster with Virtual Tours
Renters view your rental with a 3D walkthrough, apply for free and sign the lease without any human contact.
Get real-time updates on your property's performance
Schedule weekly updates with our AI-driven chatbot, ACE, on Messenger for insights on next steps based on your property's performance on the market.
Verified Hygienic Listings
Onerent Home Services ensure your property is properly cleaned and maintained for your qualified renters' safety.
Remote Lease Processing
From tours, applications to lease signing — everything can be conveniently done online and contactless with our chatbot ACE.
Stay up to date on maintenance requests, income and expenses
Get essential property updates on your Owner dashboard. Easily track your income and expenses and monitor any maintenance tickets.